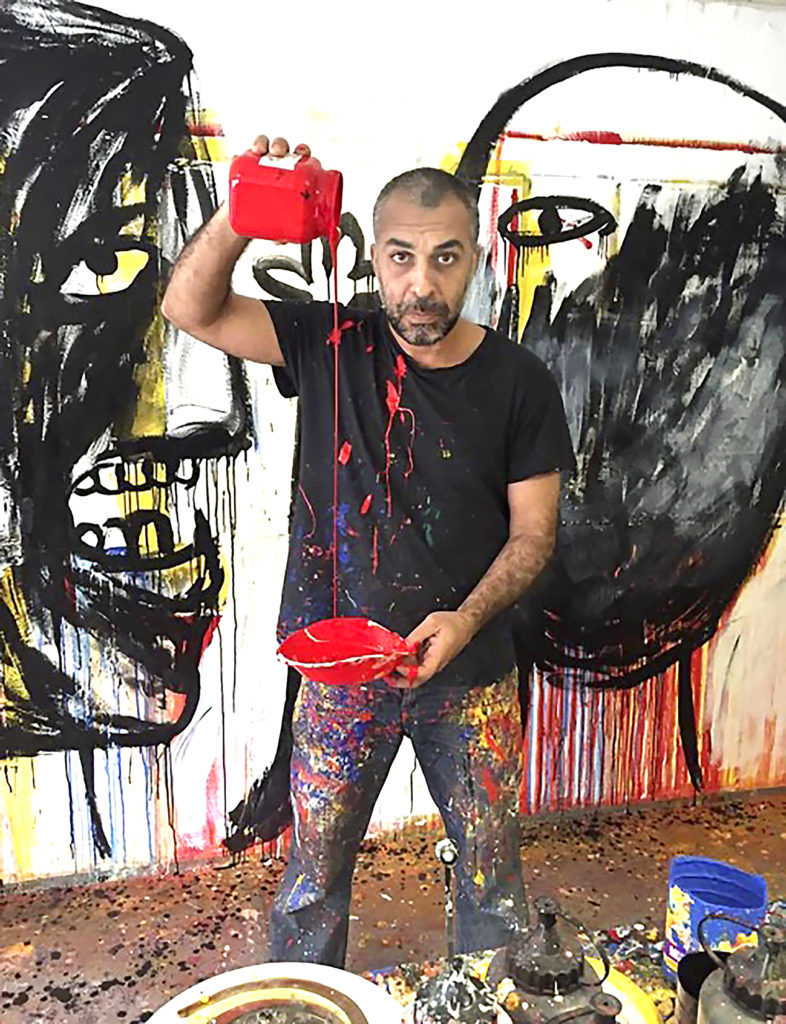 Esmaël Bahrani est un artiste iranien. Né en 1978, il entre à l'Université d'Art et d'Architecture de Téhéran mais se détourne rapidement du dogmatisme des cours pour tracer sa propre voie.
Il découvre le graffiti au début des années 2000 au travers de magazines occidentaux. Fasciné par cet art d'essence libertaire, il commence à peindre la nuit clandestinement dans différentes villes en Iran.
Parallèlement à ses expéditions nocturnes, l'artiste travaille également en atelier. Semblables à des cris, ses oeuvres puissantes dénoncent l'oppression d'un régime théocratique omniprésent et le manque de liberté d'une jeunesse rebelle. Libre, il l'est également dans l'utilisation des techniques, passant du dessin à la peinture, mixant la bombe aérosol et le pinceau, recouvrant ses toiles de cire pour mieux les gratter et faire apparaître des personnages torturés dans un environnement chaotique.
En 2005, il présente pour la première fois quelques peintures dans une exposition solo à la galerie Azad Art de Téhéran. Sa carrière est lancée. En 2012, son exposition personnelle à la galerie Dastans Basement à Téhéran est un succès.
Son premier voyage en France date de 2007. Invité par l'artiste Hervé Di Rosa, il investit le MIAM(Musée International des Arts Modestes) dans le cadre d'une exposition collective sur le graffiti. Il rencontre de nombreux artistes urbains (Jonone, Nunca, Psyckoze, Alexone) et trouve une famille artistique. Au cours de ce premier voyage, il réalise un diptyque pour la collection Gallizia. Il est le seul artiste du Moyen-Orient à exposer dans le cadre de l'exposition « Tag au Grand Palais » en 2009, un événement clef dans la reconnaissance institutionnelle du mouvement street art.
Invité par l'Institut du Monde Arabe au printemps 2015, il saisit sa chance. Las de la répression et des menaces dont il fait l'objet, il décide de quitter l'Iran pour rejoindre la France. Aujourd'hui, réfugié à Paris, il développe son art où se télescopent Orient et Occident, mythes ancestraux et rébellion punk, art brut et street art.
Depuis deux ans le travail d'Esmaël Bahrani est représenté et soutenu par la galerie Berthéas sur le marché national et international.
Cathy Mairet & Edouard Legeay
Bibliographie
De Téhéran à Paris
Édition galerie Berthéas, 2017
Regards croisés avec Esmaël Bahrani
Dans le cadre de l'exposition Robert Aupetit,
Musée & Jardins Cécile Sabourdy, 2016
Vincent Cunillères, Duos d'atelier, Musée Paul Valéry de Sète
Éditions au fil du temps, 2013
Collection Gallizia, le TAG au Grand Palais
Première édition, 2009
L'art modeste sous les bombes
Ouvrage publié à l'occasion de l'exposition Graffiti Stories Édition Kitchen93, 2007
Expositions
2017 De Téhéran à Paris, Galerie Berthéas, Vichy
2017 Art Elysées - 8e Avenue, Paris
2016 Regards croisés avec Esmael Bahrani, Musée & Jardins Cécile Sabourdy, Vicq-sur-Breuilh
2016 Sans le regard de l'autre, Carreau de Cergy, Cergy
2015 Espace Albatros, Paris
2015 Conférence "Hip-Hop, du Bronx aux rues arabes", Institut du monde arabe, Paris
2015 Performance, Assocation le M.U.R., Paris
2012 Dastans Basement Gallery, Téhéran
2011 Homa Gallery, Téhéran
2009 Takesh Gallery, Isfahan
2009 TAG, Grand Palais, Paris
2007 Graffiti Stories, MIAM de Sète, Abbaye d'Auberives et Musée Paul Valéry de Sète
2005 Azad Art Gallery, Téhéran
2005 Aban Gallery, Téhéran
1994 Kosar Gallery, Isfahan
Esmaël Bahrani is an Iranian artist. Born in 1978, he entered the Tehran University of Art and Architecture but quickly turns away from the dogmatism of the school to pursue his own path.
He discovered graffiti in the early 2000s through Western press. Fascinated by this art of libertarian essence, he began to paint at night under cover in different cities of Iran.
Alongside his nocturnal expeditions, the artist also works in a workshop. Similar to shouts, his powerful works denounce the oppression of an theocratic regime and the lack of freedom of a rebellious youth. He's also free using techniques, moving from drawing to painting, mixing the aerosol can and the brush, covering his canvases with wax to better scratch them and make tortured characters appear in a chaotic environment. In 2005, he presented for the first time some paintings in a group exhibition at the Azad Art Gallery in Tehran. His career has been launched. In 2012, his solo exhibition at the Dastans Basement Gallery in Tehran was a success.
In 2007 he came to France for the first time. Invited by the artist Hervé di Rosa, he invested the MIAM (International Museum of Modest Arts) as part of a collective exhibition on graffiti. He met many urban artists (Jonone, Nunca, Psyckoze, Alexone) and found an artistic family. During this first journey, he realized a diptych for the Gallizia collection. He was the only artist from the Middle East to exhibit at the « Tag au Grand Palais » exhibition in 2009.
Invited by the Institut du Monde Arabe in the spring of 2015, he took his chance. Tired of repression and threats against him, he decided to leave Iran to come to France. As he took refuge in Paris, he now develops his art where Orient and West, ancestral myths and punk rebellion, outsider art and street art collide. The work of Esmaël Bahrani has been represented for the past two years by the gallery Berthéas on both national and international market.