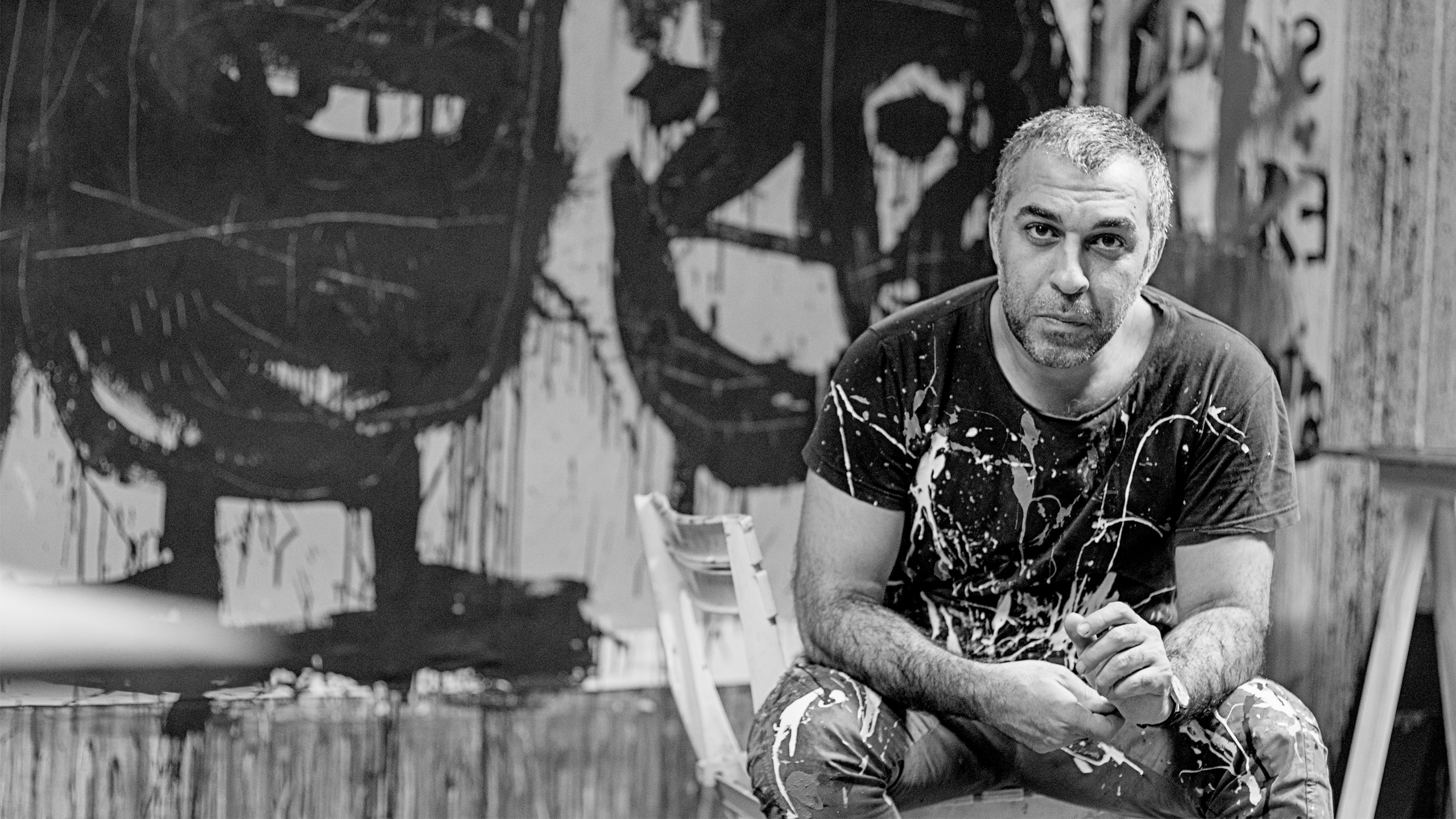 Esmaël Bahrani est un artiste iranien. Né en 1978, il entre à l'Université d'Art et d'Architecture de Téhéran mais se détourne rapidement du dogmatisme des cours pour tracer sa propre voie.
En Iran, une partie de la jeunesse, à travers son mode de vie, son dynamisme et sa créativité artistique, refuse de s'astreindre aux lois très conservatrices de la République islamique et tente de réinventer un pays ouvert et libre. Esmaël prend rapidement part à cette effervescence libertaire et devient une figure de proue de l'underground à travers ses graffitis réalisés la nuit. Semblables à des cris, ses œuvres puissantes dénoncent l'oppression du régime.
Parallèlement à ses expéditions nocturnes, l'artiste travaille également en atelier. Recouvrant ses toiles de cire pour mieux les gratter, il fait apparaître dans un environnement chaotique des corps qu'il n'hésite pas à amputer pour en souligner la fragilité. Bien souvent, seul un visage subsiste aux traits puissamment corrosifs. La force expressive de cette simple présence bouleverse et imprègne la rétine. Esmaël Bahrani oppose, au-delà de la violence des formes, une force de vie qui révèle une humanité universelle et combattante. L'espace de ses toiles est peuplé de symboles graphiques, de signes hétéroclites évoquant à la fois l'art pariétal et les graffitis contemporains. Armes phalliques et bottes militaires, références au milieu carcéral, écritures en forme de palimpseste, ou bien encore inscriptions de chiffres en persan révélant l'incessant flux de données numériques qui nous entourent. Cette profusion sémantique synthétise des horizons culturels variés en un langage original.
Esmaël expose ses œuvres dans plusieurs galeries où son travail se fait rapidement remarquer des cercles initiés. En 2005, la galerie Azad Art de Téhéran lui consacre une exposition individuelle. Sa carrière est lancée. En 2007, il est invité par l'artiste Hervé Di Rosa à Sète à participer à une exposition collective au Musée International des Arts Modestes (MIAM).
 En 2012 à Téhéran, son exposition personnelle à la Dastan Gallery est un succès. A Paris, trois ans plus tard, il anime une conférence à l'Institut du monde Arabe. Il saisit sa chance et décide de rester en France. Exilé à Paris, Esmaël Bahrani est accueilli dans un premier temps dans l'atelier d'un ami. En 2017 la galerie Berthéas organise sa première exposition monographique en France et publie l'année d'après un livre consacré à son incroyable parcours. Depuis, son œuvre engagée connaît un retentissement grandissant auprès des collectionneurs et des amateurs à travers l'Europe.
Aujourd'hui installé à Belleville, Esmaël développe son art où se télescopent Moyen-Orient et Occident, mythes ancestraux et culture underground, art brut et art urbain De son parcours d'artiste en Iran, il a conservé le goût pour l'adrénaline et la nécessité d'agir vite. Même à l'abri dans son atelier il continue d'accorder un rôle primordial à l'improvisation, à l'irruption de l'accident. Sa peinture est le résultat d'un corps-à-corps survolté avec la toile. Dans sa rage primitive rien ne lui est épargné : inscriptions, projections, grattages, scarifications... à tel point qu'elle conserve dans sa chair la trace de son geste aussi bien créateur que destructeur. La toile ne fait pas silence. Elle crie. Et c'est le temps de l'élaboration, le processus de création même, à jamais figé dans ses entrailles que l'on a l'impression d'entendre.
Edouard Legeay
Expositions
2019 Art Elysées Art Fair, Paris
2019 Ordre et Désordre, 100 ECS, Paris
2019 Dans le Vif, Galerie Berthéas, Paris
2019 Festival No Frontiers, Cité des Arts, Paris
2019 Art Up Art Fair, Lille
2018 Art Elysées Art Fair, Paris
2018 Art Up Art Fair, Lille
2017 De Téhéran à Paris, Galerie Berthéas, Vichy
2017 Art Elysées Art Fair, Paris
2016 Regards croisés avec Esmael Bahrani, Musée & Jardins Cécile Sabourdy, Vicq-sur-Breuilh
2016 Sans le regard de l'autre, Carreau de Cergy, Cergy
2015 Espace Albatros, Paris
2015 Conférence "Hip-Hop, du Bronx aux rues arabes", Institut du monde arabe, Paris
2015 Performance, Assocation le M.U.R., Paris
2012 Dastans Basement Gallery, Téhéran
2011 Homa Gallery, Téhéran
2009 Takesh Gallery, Isfahan
2009 TAG, Grand Palais, Paris
2007 Graffiti Stories, MIAM de Sète, Abbaye d'Auberives et Musée Paul Valéry de Sète
2005 Azad Art Gallery, Téhéran
2005 Aban Gallery, Téhéran
1994 Kosar Gallery, Isfahan
Bibliographie
Dans le Vif


Catalogue d'exposition, Édition galerie Berthéas, 2019

Monographie


Édition galerie Berthéas, 2018

De Téhéran à Paris


Catalogue d'exposition, Édition galerie Berthéas, 2017

Regards croisés avec Esmaël Bahrani
Dans le cadre de l'exposition Robert Aupetit,


Musée & Jardins Cécile Sabourdy, 2016

Vincent Cunillères, Duos d'atelier, Musée Paul Valéry de Sète
Éditions au fil du temps, 2013
Collection Gallizia, le TAG au Grand Palais
Première édition, 2009
L'art modeste sous les bombes
Ouvrage publié à l'occasion de l'exposition Graffiti Stories Édition Kitchen93, 2007
Esmaël Bahrani is an Iranian artist. Born in 1978, he entered the Tehran University of Art and Architecture but quickly turns away from the dogmatism of the school to pursue his own path.
He discovered graffiti in the early 2000s through Western press. Fascinated by this art of libertarian essence, he began to paint at night under cover in different cities of Iran.
Alongside his nocturnal expeditions, the artist also works in a workshop. Similar to shouts, his powerful works denounce the oppression of an theocratic regime and the lack of freedom of a rebellious youth. He's also free using techniques, moving from drawing to painting, mixing the aerosol can and the brush, covering his canvases with wax to better scratch them and make tortured characters appear in a chaotic environment. In 2005, he presented for the first time some paintings in a group exhibition at the Azad Art Gallery in Tehran. His career has been launched. In 2012, his solo exhibition at the Dastan Gallery in Tehran was a success.
In 2007 he came to France for the first time. Invited by the artist Hervé di Rosa, he invested the MIAM (International Museum of Modest Arts) as part of a collective exhibition. He was the only artist from the Middle East to exhibit at the "Tag au Grand Palais" exhibition in 2009. Invited by the Institut du Monde Arabe in the spring of 2015, he took his chance. Tired of repression and threats against him, he decided to leave Iran to come to France. As he took refuge in Paris, he now develops his art where Middle East and West, ancestral myths and underground culture, outsider art and street art collide.